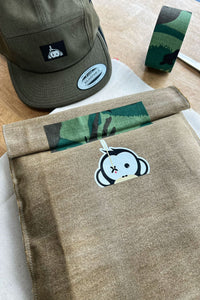 2023 Xmas gifts made easy!
We know we're a bit early with this, but we've got a great solution for your Xmas gifts this year
Xmas is just around the corner and the annual stress of picking the right gift for your loved one(s) too :-) Why not let us choose the perfect bundle for your partner/(grand)son/mate/etc. this year? 
Just pick the value you want to buy, check out and contact us. Over the email we will then ask you what kind of items you are looking for - whether that is clothing (sizes, colours) or bait, magazines, mugs, coffee, hangers, etc. A combination is always possible too. Rare colourways too, etc. Specific items are not possible as this bundle is meant to be a surprise. What's more, you will always get 10% more value from us with these bundles than the price you are actually buying for. Any questions, please shoot: info@monkeyclimber.be
Bundles will be wrapped in Monkey Climber paper (standard, see second picture) or in a deluxe handmade cloth bag (see first picture, costs extra - see options in drop down menu).
Please order well in time as the comings weeks as we will be ultrabusy and bear in mind, we're a two man (husband - wife) band only.
https://monkeyclimbermagazine.com/xmaspresent
---