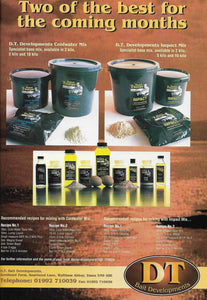 5 questions to DT Baits about coming back to the Continent!
Beginning of December last year Gio had initial contact over the email with Fenton Tremick, one of the new owners behind DT Baits. We were going to book in a telephone call soon, that not happened until Boxing Day. "There's no holidays when you're in this business," Fenton jokingly said. No rest for the wicked, eh :-)
Hi Fenton, DT Baits - one of the OG UK bait brands - is back on the Continent and soon to be seen at Carp Den Bosch? Guess you are mega excited! What do you expect from the show and what can people expect? Also, will you be back in the shops over here?
"Hi Gio, Yes 2023 is going to be an exciting year for DT Bait Developments and we are super excited to be at Carp Den Bosch next week. Since Brexit like any other UK bait companies we have had an uphill struggle to get our bait back into Europe with all the regulations that we all now have to follow but after a lot of blood, sweat and tears we are finally back which is why we have decided to do this year's show. One of the limitations is we can no longer service the carp angler direct so now have distribution setup in the Netherlands to service retailers and lake owners throughout Europe. Going to Carp Den Bosch is going to give us a great opportunity to find new trade contacts in Europe and further afield. Over the last couple of years we have been opening up markets in other countries where our brand isn't as well known such as Canada and South Africa. Everyday we get emails from customers around the world asking us where they can purchase our products and we want to make this easier for them than it is at the moment."


Can you delve a bit into the history of DT Baits please? Did you know that Dave Thorpe himself had a huge carp from Holland back in the 90s?
"DT was founded in 1988 by Dave Thorpe and although I personally never met him my factory manager Neil Messenger who has worked for DT for over 30 years did know Dave as he was buying bait from him before getting a job in the factory. DT was one of the first bait companies on the scene supplying ingredients for home rollers prior to ready made bait being available. You are correct Dave had a massive following in Holland and still to this day we get emails from people telling us stories from the past."


Yes, DT was mega popular over here back in the day and also one of my personal favs to roll my own bait. Flashship items to me were Green Beast, Juicy Peach, Toasted Nuts, Damson, Gingercake Special, Pink Bubblegum, not to forget LMPSE and some powder additives. Are these all still available? And what are the most interesting items in your bait range nowadays?
"Our ethos at DT is to stick as close as we possibly can to the original recipes we hold and never compromise the quality of the ingredients we use. This has proved challenging and we have had to drop some products from the range as we just cannot get the components to make these one of which s the LMPSE. Today we are still buying our flavours from the original sources which we are well known for throughout Europe and while available we will not change to save money. As you know our winter bait Cold Water Green Beast has been around decades now as well as some of our other baits. (Editorial: Be we do, check the mega common my mate Sebas had in '99 on an Autumn/Winter campaign we did on Green Beast back then). What you see happening in the carp fishing world is baits that have had great success over years get changed or re invented which to us is crazy why try fixing something when it isn't broke!"


You are launching a new bait at Carp Den Bosch? Can you already share a bit of info about it with us and our readers? Or is it still secret?
"As I said at the start 2023 is going to be a mega year for DT and we are launching a new bait range which has been over 2 years in development and testing with some outstanding results not just in the UK but in Europe as well. As a brand we are not into constantly releasing new products and discontinuing lines that people love in fact this is the first new range for 10 years and the last one being Supa Fruit. After the initial ideas back at the factory Peder Litchtenberg our consultant from Denmark who has been with us for over 15 years also payed a big part in the development and testing along side the UK team. As you may of seen we have been putting teaser out on our social media platforms saying a new bait is coming and keeping under wraps until the show where visitors can come and take a look for themselves. What I can tell you is it's something different for DT and totally different to our other basemixes. This bait is something a little special and have not compromised on the goodies found in it."


Finally, MC x DT are doing a special pop up collab at the show too. You just rolled them for us, according to a recipe Gio used in the 90s. Any first impressions?
"Interesting question Gio :-) We only started talking about a collab over the Christmas holidays and when we have done this in the past with people we get to work coming up with something different however you took me by surprise when you knew exactly what you wanted. I'm not going to lie my first thoughts were I'm no so sure how this is going to work and couldn't wait for us to get back in the New Year to start work on it. Even Neil double checked with me this is what the customer wants. The guys started work on the pop ups and have to say we all love the combination and think these will be popular at Carp Den Bosch. The only downside was the limited quantity we could commit to for you in a short space of time so this will make them even more exclusive."
For further information regarding DT Baits, please head over to www.dtbaits.co.uk
---