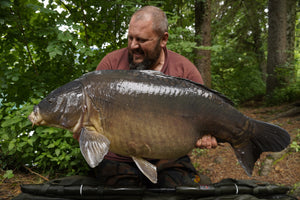 5 questions to Forge Tackle's Enrico Parmeggiani
Forge Tackle, one of our loyal print advertisers, is a fairly new brand to the European carp trade, based of years and years of experience in the field. Based in Bled, they do direct sales only which means better prices (no reps, no middlemen, no shops that need to make profit) and ship out to all over Europe, lots into Belgium and Holland too. We asked their main man Enrico Parmeggiani a couple of questions, here we go.
Keen Monkey Climber magazine readers have seen big Forge Tackle adverts in our latest issues, can you present your fairly new brand to our readership and online followers please? 
"Oh well, let's say that the main idea behind Forge Tackle for me has been to create a company, or a brand if you wish, that could suit my ideas, my ethos, my personal interpretation of carp fishing and my private life, without being forced to the daily rat race of numbers and turnover. I've been working full time on product development since 2010 for one of the biggest companies on this business, and to be honest I absolutely love this job, but after the birth of my daughter back in 2017 it wasn't possible for me anymore to keep up with the tasks and all the travelling involved in my job. So I resigned from my position of product manager in December 2017 and during the following 6 months I've been basically working to finalise all the open projects I had and to give a bit of training to the person who was going to take my position over. June 2018 I was 'free' (actually jobless is more appropriate) and thinking of what to do… As soon the news about me leaving the company became official I had been contacted by a few other companies in the trade but none of the proposals I received was appealing to me, mostly because I knew I would be ending up exactly in the same situation as before. That is why at the end of August 2018 I decided to create something by myself, and now here it is: Forge Tackle!"
As you just said, you have a long history in the tackle trade yourself so we can imagine Forge Tackle must have some clever items in its range. Can you tell us a bit more and talk us through some highlights in the range please?
"Yes, 2021 will be my 17th year of working full time in the carp fishing business. Started as a sales man, I've seen basically all the in and out aspects of this trade, it has been a really nice and funny ride I must say and I've been lucky enough to meet hundreds of super cool people from every corner of this planet along the way, some of which became really good friends. In general a great life and professional experience!
This year we also introduced our first two range of rods and it has been a blast to be honest, especially the Bullet as the price tag is incredible for that quality and components used. In the first two months we shipped out approx. 600 rods, and we have received tons of super positive feedback from our customers which is really rewarding!
The biggest highlight from the range at the moment is the Mini Pod X, a super simple product that has been understood and accepted really well, right now as we speak we have shipped out nearly 3500 Mini Pod in just 18 months of business. Nothing relevant for a multi million company for sure but for a small business like us it's pretty damn good !
If you bare with me i would like to tell a bit about the story behind that specific product… A couple of years ago i made one Mini Pod just for my own use here in Bled, as in many swims where I like to fish banksticks are not really a good solution. I wanted something super light, compact and stable that I can just place everywhere and be ready in a second. One day our mutual friend Felix van der Marel was fishing with me here in Bled and as soon as he saw it he was like 'Man, what the hell is that? I WANT ONE !'. I didn't pay too much attention to that (editorial note: neither do we when Felix gets excited, lol), but then overtime Felix was pushing me more and more to have one and we started to discuss that little pod seriously, so I actually realised that if done correctly and sold at the right price it could have been a winner. I mean, if you look at this product it is not rocket science really, it is super simple, made with just a few things in mind: easy and quick to set up, weightless and ultra compact, reliable, cheap. Why cheap? Because in my mind this rod pod is a second set-up for most of the people, something to be used for quick sessions on small lakes or canals, urban fishing and stuff like that. So everyone should be able to get one without being worried of draining the wallet. 
Other than that the Specimen Retention sling with foldable design has been a great success, first production was of 250 pcs and they got sold out in a month, so I can see that people like the idea of having a large retainer sling that pack away in half the size, it will soon be in stock again in two sizes.
Then there's the Hydra EVA Bags. The four top of the range models are selling REALLY well, and I'm very pleased with that because we have been the first company in the carp angling to propose EVA bags with ultra thick walls and the modular concept of internal trays and pouches, right now I'm working on three new models so stay tuned. Please note I'm talking about the four top of the range bags, to the Classic range which is a very basic waterproof bag already in the market since a few years…
Last but not least, not at all, is our 100% plastic free (!) packaging for hooks and terminal tackle. I personally hate plastic, and I think our industry is using way too much of it, surely it helps to get the products well displayed in shops, but as I don't really have this need i decided to go plastic free for as many product as I can, and for the others to reduce as much as I can the materials used for packaging." 
What surprises us more, is that your range even consists of some proper handwork done by yourself (i.e. the rigs in their plastic free packages). Why do you choose to do this with so little time on your hands? What makes these rigs so special?
"I just love making that stuff!! It's a bit like playing crossword to me, I know I'm a bit of a weirdo on this matter as NO ONE of the people I know loves tying rigs but I do… The Fluorocarbon Ronnie-D was something I used to do for my own fishing for quite some time, I love it because when fishing with a single pop up presentation this solution gives me much more confidence, compared to the traditional Ronnie (or Spinner Rig), the bait has way more freedom of movement and it has a bit more distance from the hook. Yes, I'm mega busy and to produce the Fluorocarbon Ronnie-D takes quite some time, but it's just a matter of being well organised. Normally one evening every week is enough for me to keep up with the orders, but also when I'm fishing you will not see me fooling around with the mobile phone on social media and stuff, most likely I'm tying up rigs! Right now I'm working on a new model as well that should be ready very soon.
At the moment I'm working as well with some local companies here in Slovenia for the development of hardware products, if everything goes according to plan I will have some more 'made in Bled' stuff ready for next season."
Brings us to Forge Tackle being based in the iconic Bled, Slovenia. You yourself are Italian, you ship out all over Europe. What is the main aim of Forge Tackle and how can people from the Benelux order?
"Yes correct, I left Italy back in 2010 and since then I've been living in four different countries, ending up here in Bled, Slovenia. This is a truly beautiful country and since we moved here we decided to stay here and not to move anymore. So it felt logical to set up Forge Tackle here. 
Yes I'm Italian, but over the last decade I spent most of my time abroad and now I have friends and different kind of connections in every European country so it would have been limiting and non sense for me to start a new brand as a 'local' brand only. Today's world is extremely well interconnected and shipping product across Europe is not that expensive anymore. We have a shipping cost flat rate of just 8 Euro for 90% of the countries in Europe and free delivery for orders above 150 Eur. This, together with the really competitive price and our direct sales system (no middlemen, no reps, no shops) makes shopping in our webstore pretty convenient and interesting from everywhere around Europe, and of course in the Benelux too. 
Actually the Benelux has been a really nice surprise for me, even if i didn't pushed very hard on the promotion of the brand over there I'm shipping products on a daily basis to Belgium and the Netherlands."
For those of you who haven't ordered from Enrico at Forge yet, please do. What can we expect in the future from Forge Tackle?
"Who knows! I have a list of ideas that could easily circle up Bled lake if I write it down, but as you can imagine it takes time (and money) to develop your own stuff, especially if you are a new and small company like Forge Tackle, but what I can say is that I will have some new addition on my landing net range, slings and a pretty extensive assortment of terminal tackle soon, including three totally new models of hooks I've been developing with Maruto in Japan. On the hardware side I'm working on a couple of rod pods that I'm trying to produce here in Slovenia and a bivvy with a totally new design, but for these products I will take all the time I need to make sure they are done properly. 
Regarding the brand my dream is to grow it slowly but steadily and to be able to involve other passionate carp anglers in the process, to create some kind of open workshop with anglers from different countries to share experiences and ideas, which is exactly what I'm doing today with the guys in the team, just on a bigger scale!!"
Watch this space as we'll have some mega Forge Tackle news in the coming months! In the meantime, go visit www.forgetackledirect.com 
---