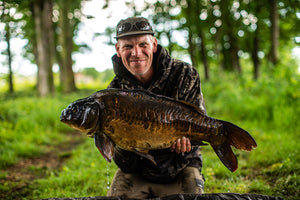 Alan Blair, Oli Davies & co revisiting the Monkey Climber syndicate
"After 2 very strange years it seems that the world is returning to some sort of normality. That means travelling and fishing abroad again, something that we had always taken for granted but more recently has meant jumping through many administrative hoops. Still, we do it because we love it, and the extra paperwork hasn't dulled the desire to seek new challenges and visit old friends, none more so than our good friend Gio. His cult baby, Monkey Climber Magazine has recently turned 10, meaning that it's nearly 10 years since we first visited Belgium to fish and film."
"It felt good to be back there, familiar and welcoming, like the covid years were some sort of bad dream that we had woken from and were still trying to process half asleep. Some things don't change and driving through the gates of the Monkey Climber Syndicate felt in some small way like coming home. I have only fished it once previously, a 'quick overnighter' as Alan and I passed through on our way to Sweden, and so I was looking forward to wetting a line again, and perhaps catching myself another one of its special residents. It was strange to actually have 2 nights to relax and enjoy the atmosphere. Most of the time we don't have that luxury that many take for granted: Time."
"Greeted by clear water and patchy weed, it didn't take long to find some carp ghosting slow and low over the sandy clear areas in the shallows in spite of the rain. I knew immediately where I wanted to be. Thankfully Alan had his eyes on his favourite snaggy margin at the other end and so there was no conflict for swims. Alan had decreed that we would have first choice – and I wasn't arguing. Henry, Mikey and Barn who were joining us for the first evening filled the gaps in and we set about laying some traps. It didn't take long for Alan to nick a bite which is often the case when you place a rig somewhere the carp have rarely if ever seen one before, and after a tussle in and out of the bushes we were soon inspecting a very cool linear in the late evening sun. Only it's 3rd ever capture in the decade it had lived in the lake."
"Surprisingly there were no further bites until first light, when before he left Henry helped himself to a lovely upper 20 mirror named 'The Mexican'. It was strangely quiet though. That funny time of year just before spawning when the fish don't need to eat and can be incredibly moody."
"A grey start gave way to intermittent sun and the fish appeared, in ones and twos under the surface in the middle of the lake. Catching one off the bottom would be a miracle. So out came the floaters, and of course the fish responded. It's still amazing how few European carp anglers surface fish. It's sometimes the only way to catch them. Although they were taking well in short spurts that didn't mean it was easy. Eventually the pressure told though, and Alan forced an error on an over depth zig, with a long, hard fighting chestnut common eventually succumbing to the net."
"I felt a little overgunned on the small pool with my bolt machine but it served me well and hooked for me a better fish. It was one I had been watching all afternoon, a double bellied big finned mirror of around 30lb. It fought like a much younger fish, made even more exciting by my precarious position on the steep far bank. One wet foot later and I was having my moment with this typical leathery Belgian mirror."

"Eventually our will, and the carp's appetite dried up. They continued happily jumping as we ate a feast of a barbeque and a bite on the bottom seemed an impossibility."
"Of course nothing is impossible in fishing however, and as the sun set through the poplars I had a take in the shallows. And then another! Five minutes of chaos, and an unlikely brace of lovely mirrors to end the day." 
"I awoke to quiet rods, but it wasn't disappointing. I felt quite refreshed. And ready to continue the journey…"
Oli Davies
---