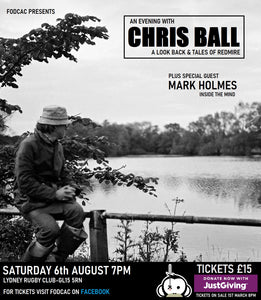 A charity evening with Chris Ball on August 6th
Join FODCAC for an evening of talks with Carp Historian Chris Ball as we take "A Look Back" at how carp fishing has become what it is today.
Chris Explains,
'The modern pursuit of successful carp fishing has happened in my lifetime after the emergence of Richard Walker and friends in the Carp Catchers' Club of the early 1950s. It was this unstoppable powerhouse of anglers which generated new ideas on tackle, tactics plus the relentless search for new waters. Soon this roller coaster of a ride eventually grew into a worldwide phenomena...and carp fishing is still growing.'
'As well as taking a look back at how it all began, We also ​reminisce of Tales from the banks of the Iconic Redmire Pool, the original big fish water. I explore it's origins, the anglers, the fish and of course the Monsters!'
Don't miss this very special night and we look forward to seeing you all there.
Chris
PS In the near future you can expect two very special MC x FODCAC x Chris Ball pop ups for charity from us!
---