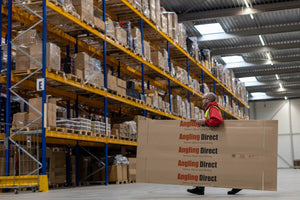 Angling Direct opens European head office and new warehouse in Venlo (NL) + giveaway!
In March 2022, our print advertiser Angling Direct - the UK's largest fishing tackle retailer - starts the new season with the opening of its new European head office and warehouse based in Holland. "With service being a top priority at Angling Direct, the company is particularly excited about the opportunities this move opens up," AD's Kat Parkinson told us when we met up the other week.
For everyone
Angling Direct's goal is to offer anglers the widest selection and best service online and in-store. Especially due to the pandemic, many people have newly found or rediscovered their love of fishing. The employees in sales and customer service are happy to help everyone, whether they are experienced pros or complete beginners.This is because the love for fishing runs through the company. From the warehouse, accounts, IT, marketing to management – you find passionate anglers across all departments here. The company even offers an additional day off to its staff to take a friend fishing.
Brexit related
Brexit has caused the company, like the entire British trade, many logistical challenges and these were particularly noticeable in delivery times. The company has decided to absorb all additional costs caused by customs duties and fees, so that the purchase does not become more expensive for the customer. Unfortunately, due to Brexit related custom's regulations and additional bureaucracy, the usually extremely fast delivery times were often extended by days.
Logical move
In order to guarantee the best possible service and since Angling Direct has had many loyal customers in Europe for years, the move to mainland Europe was only logical. With André Akkermans, the company has gained an extremely experienced industry professional as Commercial Manager. The company is adding further thousands of skus to its already extremely large offering to provide anglers with a range relevant to the market. Hereby various German, French and Dutch top brands have been added. 
Marketing is pleased about the start of David Rosemeier, who will take care of social media and video. David was previously an editor at Carpzilla and therefore already knows the industry very well.
Angling Direct opens its doors in Venlo at the beginning of March and offers customers lots of great new products from day one.
As before, all orders with a value of €19,-or more will be shipped free of charge. If you want your tackle faster, you can choose Priority Shipping for just € 6.99, which means that the order is shipped the same day.
AD+
AD+ is a subscription service that allows you to subscribe with a one-time contribution of only €9.99 and every order will get free priority shipping for 12 months.
Price Checker
The price checker is also new at AD. This compares the current prices of the leading providers and dealers so that the customer no longer has to. And if you still find a product cheaper, then you are welcome to contact AD and the price can be adjusted.
Angling Direct also aims to offer a product selection as relevant as possible. With the opening of the new headquarters, many new brands and thousands of new products will be added. In addition, it is now again possible to offer the largest
selection of baits. Some great new brands have also been added here, such as Dream Baits and Proline.
To celebrate the European launch, Angling Direct is currently not charging any shipping on all orders and every order with the value of at least €30 qualifies the customer to one year AD+.
Monkey Climber giveaway
Simply respond to this post on our Facebook with your tackle wishlist from Angling Direct and together with AD we'll pick one lucky winner who receives a 100 euros voucher! Winner will be picked on our editor Gio's birthday March 24th. Be lucky!
---