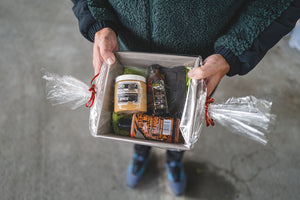 Best ever gift! Thx Vistje & family!
For MC#20 we interviewed local angler Bart aka Vistje just before he passed away at the young age of 42. We made sure he could see the cover and layout before he went, but never actually saw the magazine being published. On his funeral, the big proofprint of the cover was even next to his coffin. 
As a thank you Bart's mom invited us and his closest fishing friends to a really good local restaurant. All of us arranged flowers and a gift for her, but what I did not know was that she had a surprise for me too. Although all Bart's tackle had been sold in the months before his passing, she had found these three old flavours at home and gave them to me as a present.
Needless to say I was really made up! Actually we should use these flavours and attractors for a charity pop up, maybe in aid of cancer research! What do you guys think?
PS We've translated Barts final interview and story into English and this will be featured in our first ever English edit of the magazine.
Big love,
Gio
---