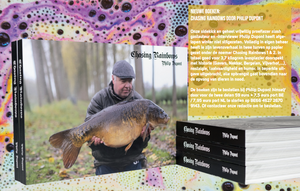 Bestel Chasing Rainbows van Philip Dupont nu!
Onze sidekick en geheel vrijwillig proeflezer slash gastauteur en -interviewer Philip Dupont heeft afgelopen winter niet stilgezeten. Volledig in eigen beheer heeft ie zijn levensverhaal in twee turven op papier gezet onder de noemer Chasing Rainbows 1 & 2. In totaal goed voor 3,7 kilogram leesplezier doorspekt met historie (Gavers, Nekker, Bergelen, Vijverhof,...), nostalgie, taalvaardigheid en humor. In beperkte uitgave uitgebracht, alle opbrengst gaat bovendien naar de opvang van dieren in nood.
De boeken zijn te bestellen bij Philip Dupont himself door voor de twee delen 59 euro + 7,5 euro port BE / 7,95 euro port NL te storten op BE66 4627 2670 9143. Of contacteer onze redactie om te bestellen.
---