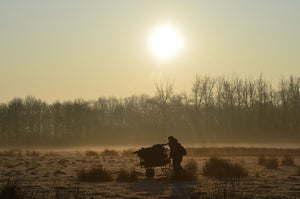 Biemans: the only bait company based around insects!?
No, we don't have any commercial ties with the fairly new Dutch bait company Biemans Baits. So why plug it on here? Because we love a bit of journalism and the sustainability in the vision of Daan Biemans, its owner and former writer in our mag, might just be the future way for many bait companies around the globe. We asked 5 questions to Daan and it's well worth a read!
Hi Daan, you just launched your brand into a very competitive Benelux bait market, but with a totally different concept. Insect based baits. Say what!?
If somebody had told me a few years ago that today I would be the proud owner of a bait company, I wouldn't have believed him! I might have just walked away laughing! But as you know life can be strange and unpredictable some times and here we are. I started Biemans Baits up as a company with sustainable bait only because it's a unique and competitive concept. The mission is to change the bait market and introduce this completely new, irresistible and sustainable bait. As anglers we all love nature, so let's cherish it and take care of it. Not only for the time being, but also for future generations.
Some background info around myself: I studied biology and afterwards I directly started as a researcher in a start-up company that is farming insects on by-products from the food industries. Seven years later, I am the production manager of a fully automated (24/7) insect farming plant where we produce high quality insect ingredients for the feed market. The insect we are working with, i.e. the Black Soldier Fly, is extremely efficient in upcycling organic by-products. These insects are then processed into high quality ingredients, which I already have been using for years in my own baits (on a small scale). And that's when the boilie started rolling (pun intended!): friends and friends of friends and their friends also wanted insect based baits. So, at that point I decided to start Biemans Baits and come up with a whole range based on insect-based baits.
Is it just that one type of insect, or is there more to develop here still?
At this moment Biemans Baits only uses the Black Soldier Fly. From this insect we use three ingredients: protein concentrate (liquid), insect meal and hydrolyzed insect meal. We use different kinds of products coming from the same insect, but each product has its own characteristic.
The development of new and unique baits will always continue. There are now multiple species of insects which are being farmed on industrial scale. Some of these products are already in the analyzing and testing phase to hopefully become a new insect-based line. The vision of Biemans baits will always be insect-based baits because of the natural aspect and sustainability of insect ingredients.
So what's the specific advantages of using insects as your main ingredient(s)? I know and understand a lot myself but want you tell us please.
There are numerous benefits of insects for all living animals, I will try to explain a few of them for carp. Most carp anglers know that carp love to eat insects or other small aquatic organisms. The specific insect taste/smell of the bait will definitely trigger the carp and his natural behaviour, as most insects are packed with protein and other beneficial nutrients. The carp will recognise the bait as a good source of nutrients. This is a huge advantage; the carp will quickly recognise the bait, and this will increase your chance of catching them.
Another benefit of using insect-based baits is that you can differentiate yourself from other carp anglers. Especially on these heavily fished waters where baiting campaigns are difficult because most anglers use baits that are similar to each other. With insect-based baits the competition will probably not benefit from your effort, because the chance is less likely others are using it at this very moment on your water. The first mover advantage.
Last but not least is the sustainability aspect of insects. I believe we all love nature and being out there so let's take care of it. Bait companies use fish meal as their main ingredient which is not a very sustainable way of creating bait. Insect meal is way more sustainable as they are produced on organic by-products from the food industry. On top of that, carp eating fish(meal) is in my opinion not the most natural way of feeding them. 
Is Biemans Baits Benelux only or do you have international ambitions?
Yes, of course! At the moment we are not structurally sending internationally, but we will do so to everybody that believes in the benefits of insect-based baits after reading this.
We already send some packages to angling friends in France. Time will tell if we reach the international bait market. It will take some time and effort, but we are very positive and optimistic about it. The English version of the website is under construction as we speak.
Any future plans and last words/shout out?
I find the reactions of people on our insect-based baits amazing! People are really positive and enthusiastic about Biemans Baits, and I see our customer base growing every day. Next to that Biemans baits is now also available in a local fishing store in the Netherlands. So many thanks for everyone who believes in insects-based baits. If you want to find out more or have questions about insect ingredients or insect baits, you can always reach out to us. Check the website or find us on Instagram @biemansbaits. And my final words will always be: enjoy and have fun angling!
---
2 comments