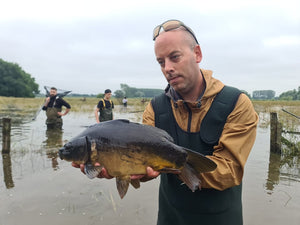 Big Belgian rescue mission earlier this week
The last 48hrs big parts of Belgium have been hit by massive, mortal floods even. A lot of our friends are living in that region & also in the parts of Germany and Holland that have been flooded. Stay strong peeps & hope you can stay safe.
Our very own Monkey Climber HQ / Warehouse flooded two weeks ago now. Luckily we were not away from home as the water entered in less than 15 mins. With the help of our parents and neighbours we could pump it out reasonably fast, the damage to certain parts of our stock and fishing kit being done though.
Next new problems started in another part of Belgium early this week when a huge reservoir started to flood into some meadows and river. When the water started to withdraw again, numerous fish got into trouble and that is where our friend Dieter Borremans stepped in. After contacting numerous official organisations to no avail he and friends (amongst others Dieter from Forgotten Flavours too) just went saving over 130 carp themselves with their waders, unfortunately it was too late for others. We at MC want to express our biggest respect for these actions speaking louder than words.
Dieter and his team are evaluating the situation by the hour now but cannot go in due to mega high waters levels and strong currents.
---