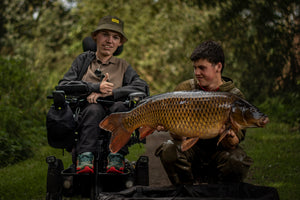 Big ups to Marco in 't Hout!
Marco in 't Hout is one of our OG followers and someone we can consider as a friend over the years, always present at shows and open days when his friends can drive him. Marco, being a mega positive personality, is in our opinion and example to many others out there always complaining... 
Marco just messaged us, like he does regularly, and we wanted to share his joy with you: "Here's a couple of pictures of my first 20kg plus carp. I tried my luck on this water only once before, which unfortunately resulted in a blank. So last weekend I was fishing it for the second time. I could never have dreamed to catch on of the A team carp within 2 hours of fishing.... I had it on double 20mm Sweet Temptation boilies from BFP (a Dutch brand Marco works for)."
We invited Marco last year to a special Belgian syndicate with all possibilities for anglers with disabilities, hope someone can do the long drive and bring him over.
X
---