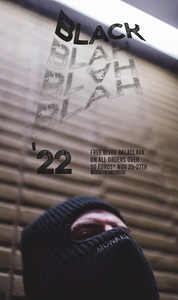 Black Blah Blah Blah 2022
We feel Black Friday is over the top commercial. Only a couple of years ago BF was totally unknown over here in Belgium, now you have brands doing two weeks to full month discounts...
Just like the past years, we decided not to give discounts but add a free Bivak Balaclava to orders over 50 euros (shipping not included). Should we run out of stock on the Balaclavas we will deffo add something else to your orders.
Valid as per now, until this Sunday Nov 27th, midnight. 
---