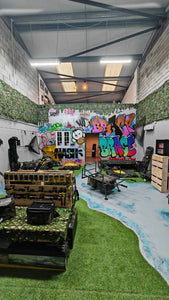 Brace Fishing helping us out in the UK
Loads of our parcels still going to the UK, which means a lot to us as traditionally everything we bought as kids came from the UK... Since Brexit shipping costs have gone up though, from 10 to 25 euros per parcel currently of which we charge 15 to the customer and take 10 ourselves. Also, not always but likely, when a parcel enters the UK there's a chance customs will charge you taxes and VAT. There is nothing we can do about this unfortunately but yesterday a lady accused
us of misleading, etc. hence this post. Luckily most of you understand it is not our fault.
That being said, we understand your worries as UK customers too and that's why we are working closer and closer together with the cool people over at
Brace Fishing
in the UK now, who stock a selection of our products in the UK now (even some one offs that are not on our site). We plan to build more stock and items with them in the UK soon, so go to their cool shop or check their
website
and keep supporting this Belgian
indie 
Ape.
Gio
---