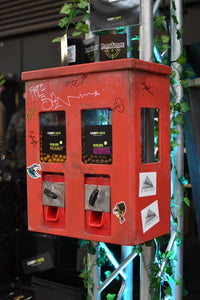 CarpForce signed chewing gum machine charity raflle!
Charity news from Germany just came in. Something with a cool chewing gum machine and lots of 'known anglers' signatures including yours truly's! Read below.
The chewing gum machine from the CarpForce stand is going under the hammer!!!
"This chewing gum machine has a cool story! It hung as a decorative item in the stage set of the show "Oh Läck Du Mir", a musical in Switzerland. Afterwards, my mate Robby, who looks after the CarpForce stand, gave it to me as a present, filled it with boilies and hung it up on our stand. Alan Blair was the first person to sign it in Den Bosch, which marked the beginning. Peter Schwedes, Marian Sura and Maui Kaulbach, the Carpy guys, were the next to sign the machine and then it all took off very quickly."
Because we wanted to do something really cool with the box, CarpForce decided to raffle it off for a good cause!
"In the meantime, well over twenty well-known guys who shape and promote our hobby have signed it. What particularly impressed me was that we didn't have to persuade anyone, everyone was totally enthusiastic straight away. That shows me that no matter who works for which company and who is sponsored by whom, we are all somehow in the same boat! In the end, we all have the same passion anyway. We were all pleased to see that this cohesion for our hobby really does exist at the end of the day! We are donating all the money raised from this raffle to the Löwenherz e.V. outpatient children's hospice service in Osnabrück. I don't need to explain to anyone what a hospice service does... It's all the sadder that something like this is needed even for the youngest children who didn't even have the chance to live their lives."
Winning this exclusive chewing gum machine:
"And this is how it works... You can buy online tickets at www.CarpForce.de/kaugummi for 2 euros/each. All you have to do is enter your details in the form and we'll send you an email with your PayPal address and the amount you have to pay. Your tickets will be added to the others in our lottery drum. The winner will be drawn on Saturday 2nd December at the CarpExpo in Wallau, Germany. Of course you can also buy raffle tickets there all day. If you don't manage to visit us there, we will simply send you the box!"
"If you don't have the time or space for the box, but still want to do something good, you can of course just donate. Just send an email to kaugummi@carpforce.de If you have a fishing shop and this gumball machine fits over your counter, you can buy a raffle ticket for 5 euros by email until 25 November and from 200 euros you will receive your own donation receipt from Löwenherz e.V. and a piece of advertising space on our raffle box. Just send an email to kaugummi@carpforce.de Legal recourse is excluded!"
"My team and I would like to thank you, also on behalf of everyone who supports this project, and wish you a great winter season!"
All signatures on the chewing gum machine at a glance:

Neil Spooner
Alan Blair
Olaf Barz
Peter Schwedes
Marian Sura
Maurice Kaulbach
Tammo Schiller
Marc Voosen
Ronny De Grote
Simon Stallabrass
Christopher Paschmanns
Daniel Hammer
Patrick Gorissen
Frank Schmidt
Gio Vanhooren
Kai Synwold
Robin Illner
Andi Hetzmannseder
Julian Jurkewitz
Klaus Wegmann
Tobias Steinbrück
Jan Ulak
Björn Brockmann
Alex Kobler
---