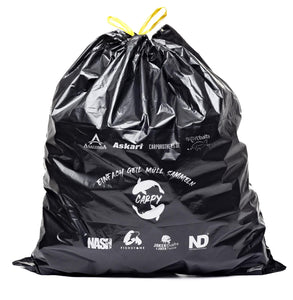 Carpy Online & partners keeping your spot tidy!
Carpy Online, the German podcast & entertainment phenomenon, started something we wanted to do for a long time but never did because of lack of time. At one point we even wrote a full Keep Your Spot Tidy plan out with Ian Moore and Mike Brown over at CC Moore but again, never worked it out properly.
So when we saw this news on the German scene last week, it really made us happy and we contacted our three friends in Carpy Online to hopefully be able to participate in this mega project in future. 
What they started up now is that a garbage bag will be sent free of charge with every order from the participating partners of the "Einfach geil müllsammeln" campaign. You will receive one bin liner and info flyer per order in the online shops of Askari, Carpbrothers, Naturebaits, New Direction Tackle, Joker Baits & Tackle and Fishstone. In addition, the companies NASH and Anaconda will deposit a few thousand bags in various fishing shops via their sales representatives. You will also find them in Askari shops. 
As supported by Tim Paisley too!
Original message here.
---