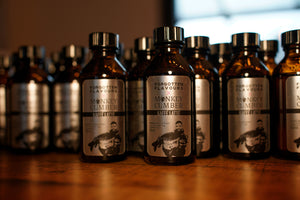 Coffee flavour and pop up collab with Forgotten Flavours for Carp Den Bosch
Remember the Coffee Crème pop-ups Forgotten Flavours x Monkey Climber did together? Well, not only are we doing another batch of those - [Dieter found some leftover blend which was used in the highly popular first batch] - we are also releasing a collab hookbait flavour based on this Coffee ☕ combo!

'Kaffé Latté' flavour is a PG/Triacetin based flavour which is an outstanding blend of Coffee and cream flavours with a touch of the finest hazelnut flavour available, has an amazing taste profile and extremely concentrated so please use carefully. A few ml's per egg will do just fine! Did you know coffee is one of the main attractors for carp as stated in the Loeb study?
Limited edition as usual and available at Carp Den Bosch!
---
2 comments