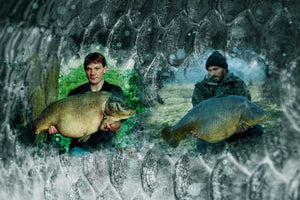 Crustazia, DT's first new bait range in a decade
Keen Monkey Climber followers will have noticed we did a collab with DT Baits for Carp Den Bosch recently. DT being one of our fav old school bait companies now setting foot on European soil again. On the backcover of our latest mag & at Carp Den Bosch DT Baits announced the launch of their new Crustazia range, their first new bait in over ten years. Here's what DT owner Fenton has to say when we asked for more details:
"Nestled in amongst some of Essex's fine carp waters, lies a factory that houses a company grown from the essence of Carp fishing in 1988. Our heritage passed down over decades is to produce the finest carp baits from expertise in bait formulation and experience from time spent on the bank. Names like Coldwater Green Beast, Pukka Fish Oily Chicken and Fish n' Blood Fresh Orange are unchanged since their release and are still producing the same results as when the legends of old were sitting on the bank.
We felt that one thing was missing amongst our small but classic range – a true crustacean-based bait. We did have a very effective flavour called Fish Frenzy that was sadly discontinued years ago - a bottle containing a pure concentrated evil that should not be opened indoors, but DT have never been known for producing marine scented baits.
To honour the heritage of the company we had to go back in time to create something brand new. We looked at an old recipe that was over 20 years old, never made public, used by a few with amazing results. A blend of crustacean meals mixed with quality milks, rolled into a bait containing no fishmeal whatsoever, with the highest nutritional value, optimal attraction and amazing solubility. We wanted to improve the existing recipe as we felt that it could be "modernized" to some extent with some of the ingredients that we have today. Importantly we wanted to raise the content of crustacean meals in the bait, as these types of ingredients are very attractive to carp for obvious reasons but can be quite difficult to handle in a large percentage as they tend to result in floating boilies. We also wanted to add some extra crunch and a generous sprinkling of the amazing GLM powder. After many hours of test rolls and tweaking we needed to add a flavour that would complement but not over power the natural delicate aroma of blended shellfish with a minute creamy back note – believe it or not after going through what seemed like endless samples, we decided to blend our own flavour and it ended consisting of two very different shellfish flavours that gelled the bait into a balanced natural smelling bait along the lines of fresh dried crustaceans. Obviously now came the biggest trials of all as the bait would need to be tested over a period of time on different waters in all seasons and in different countries to make sure that any inconsistencies were taken care off before it could be released to the public. So, after two years of testing and tweaking, the bait to be known as Crustazia would go on to produce some amazing results for our consultants on some of the classic gigantic lakes in Europe and several of the notorious syndicate lakes in the UK – results we are really proud off as we then knew that we got it right without compromise paying homage to our heritage. Crustazia will for certain go on to become a new classic that will catch many many carp in the future…"
Header picture: showing factory manager Neil Messenger with Bazil from Yateley in 1997 on the left hand side. And Julian with a fantastic fish from the Orient October 2022.
---
1 comment