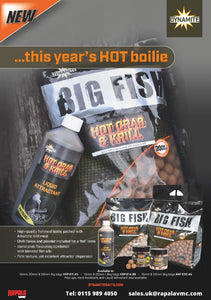 Dynamite likes it HOT! Check their newest bait here.
HOT CRAB & KRILL
Some like it HOT…

NEW for 2023! Say hello to the latest addition in Dynamite's hugely successful Big Fish range. A fiery fishmeal based boilie, with proven fish catching ingredients and flavour, a firm favourite amongst field testers on a variety of venues.

A spicy fishmeal base mix packed with Antarctic Krill meal, chilli powder and chilli flakes, which are some of the most attractive natural ingredients available. The inclusion of the spice ingredients also aids digestibility, passing the bait through the fish quickly, providing prolonged feeding. The highly attractive and nutritious base mix is combined with our iconic Crab flavour and blended fish oils, creating both instant and long-term feeding triggers. The boilie has a firm texture, making it ideal to be fed via a throwing stick and providing resilience against nuisance species, though this does not inhibit the attractor dispersion.
Powder ingredients include:


The finest sustainably sourced Antarctic Krill meal
Highly digestible Provimi 66 fishmeal
Chilli powder
Chilli flakes
Milk powder
Egg albumen
Cereal meals
Liquid attractors:


Crab flavouring
Blended fish oil
---