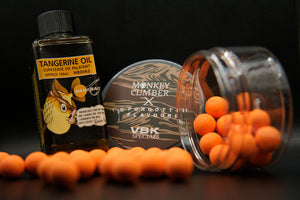 Find us at the VBK meeting this Saturday Dec. the 10th
This Saturday you can find us that first VBK meeting in three years and we're looking forward to meeting you all!
We will bring loads of stuff, mags and books, as well as a special edition 2022 VBK show pop up we do with our friends over at Forgotten Flavours. Two colours - orange and yellow - of Tangee Specials including the following: 
Tangerine Nash

Orange flavour

Amino's

LMSE

N-Butyric-Acid

Geranium essential oil

Bergamot 

essential oil
We will most probably also have some leftovers of the VBK x MC x Shimano collab shirts, so come by and grab one!
---