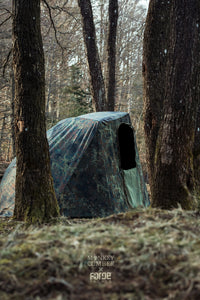 Flecktarn Brolly drop date Is here! This Wednesday!
The eyecatcher on our stand during the 2023 Carp Den Bosch show definitely was Gio's personal sample Forge Tackle x Monkey Climber Flecktarn brolly, which wasn't for sale at the show though as we were waiting for stock to arrive. After a long travel over sea and three weeks customs check it's finally here and it drops in our store this Wednesday 8pm Euro time - 7pm UK time.
There's only 110 pieces available, if you want to secure one please check all details and the product link below.
Buy here - This Wednesday 8pm Euro time 7pm UK
For a long time Gio wanted an old school type of oval brolly but in German flecktarn as he loves this camou pattern so much and Enrico from Forge helped us massively with this one really. 
Some important info:
- Limited numbers only, in this first batch coming to us there's 110 pieces and we don't aim to flood the market, rather keep things limited and niche as always. That being said, from the massive response we had we realise that 110 is just not enough to please our followers and friends. We might overthink a second batch.

- The MC x Forge Tackle Flecktarn brolly is made for the undercover and moving angler mainly, an oldschool concept in a modern design (tackle organiser inside, rear vents, etc.) coming with a fleckarn mozzy mesh and groundsheet.
- 55 inch version

- Fabric is a 20K in water column waterproofness, breathable and rip stop.
- Total netto weight is 9,3Kg, this includes storm poles, groundsheet, pegs, mozzy panel. 4 stormpoles in total: 2 short for the sides and 2 long ones for the front, all quick release ones too.

- No preorders possible at all, we're sorry. Sold on our website only, shipped from Forge's distribution centre on the border of Lake Bled, Slovenia.

- Complete set brolly + mozzy + groundsheet + stormpoles + pegs will cost 399 euros.
- Shipping cost is calculated per item right now, should you want to buy multiple pieces for you and your friends it is possible we will need to recalculate shipping and you will have to pay extra afterwards. Any discussion here will lead to a full refund and the brollies will go back up on the site.
- Status of the product is now Sold Out, but that will change Wednesday 8pm Euro time - 7pm UK time.

PS For UK customers we need to have your NI number (national insurance number) for the courier that Forge is using.
---