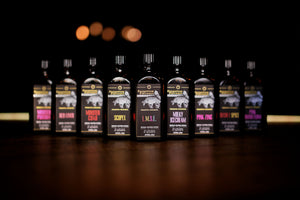 Forgotten Flavours Favourite Flavour range now available in our shop!
In views of our mega relationship with our Belgian friends from Forgotten Flavours it's only logic we start stocking a limited number of their products on here too. We start off with the Favourite Flavour range for now. What's more, exactly, is that apart from maybe one or two flavours we've always said we wouldn't do the same ones in our ranges. A good old Mulberry Florentine is for instance only to be found in our Monkey Climber Secret Stash range, OG Monster Crab only in the Forgotten Flavours range, etc.
Vice versa Forgotten Flavours will now also be supplying our Secret Stash hookbait liquid range in their shop. We think this will help people who like both our brands save money on shipping costs in future.
In the not too distant future we will drop a small bomb in the scene with a collab MC x FF glass bottle flavour range consisting of very rare and mega flavours no one thought you would ever be possible to get these days. Working on it as we speak & we're Stinging (mind the pun) - ermmm - stinking of it
https://monkeyclimbermagazine.com/collections/forgotten-flavours
---