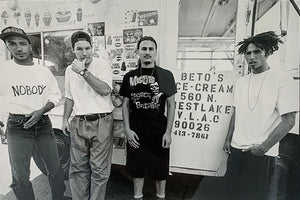 Fun fact: Did RATM like Rod Hutchinon?
We probably posted this before but when we saw this early Rage Against The Machine photo, their guitarist Tom Morello made us think of Hutchy. Check their selfmade shirts: Nobody x Noddy. Even the handwriting is very similar.
Of course, all of this is sheer coincidence, but a good fun fact nonetheless. When we interviewed Rod, a guitar hero himself, we asked him about his musical taste and the man who couldn't smile forever answered us he was a rock 'n roll man, but didn't like anything after Elvis. Fair enough!
In our latest issue we also coined a new MC slogan Chilling in the name of, refering to RATM's Killing in the name of. And exactly that Chilling in the name of relates to Hutchy's Don't forget to smell the flowers along the way. Full circle. 
---