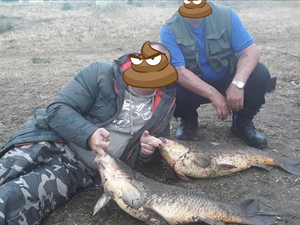 Galgenweel - Something's gotta happen!
Last weekend Glenn Geldof, one of our readers, messaged us regarding an ongoing situation on his local Galgenweel in Antwerp. For a number of years, foreign anglers fished there illegally for food, a situation we even had on local television a couple of years ago when Gio was still the spokesman for the Belgian carp society VBK vzw.
Now, since a year two, the venue sees a new problem added to that. Now foreign, many of East European origin, are calling themselves 'sports anglers', buy the necessary licenses, etc. but are not treating their captures with respect. No mats, three anglers holding the same A team fish - named Half Lin - for photos, the fish itself looking paler and paler in the pics and disappeared from the scene since just like 90% of all the other A Team Galgenweel fish...
Glenn, seen with the Half Lin in better times below, is also one of the inspiring people behind the local Galgenweel mirror stocking project and is now, like many other locals, asking himself if it's all worth doing any longer. Their hard work just gets destroyed, he says. Police and fishing guards are apparently looking the other way, also because they have the necessary fishing papers...
This post is in no way a go against any type of population or origin, and we won't let this happen in the comments either. Instead we would like to help addressing this situation and already contacted VBK vzw yesterday, before posting this. Our first ideas to tackle the situation is to have organisations like VBK and Sportvisserij Vlaanderen contacting ANB, fishing guards and the Provinciale Visserijcommissie. Also we believe that the Polish Fishing Team, an association of Eastern European anglers mainly created to raise awareness of local rules and habits in Belgium, could be a great help too. In the long run we believe that the use of mats, etc. and maybe even an exam like in many neighbouring countries should become obligatory to get a public license. A long way to go, but we need to fight this. 
PS The emoticons used by our designer are again in no way aimed at the people in the pics themselves, nor at their origin, but at their behaviour with our beloved species. Be kind to carp!
---