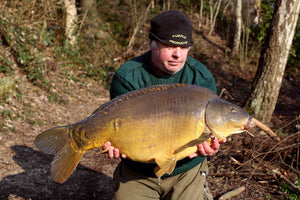 Had a great Waasland open day weekend
On Saturday we visited Hengelsport Waasland's open days, met a lot of lovely faces, including a couple we hadn't seen for decades, had some good chats and laughs, but being away from home and close to the Waesmeer syndicate we decided to do two sneaky overnighters in ice cold conditions. Expect nothing, you know.
First morning, first light my single choddy blasted at the horizon was away resulting in a nice scaley of 21lbs 9oz and we left with a big smile to the shop. We were back just right in time to cast our rods back out just before darkness. Again I could snare one on my left hand rond, same tactics, this time she went 27lbs 16oz and when I woke up and went into my mate Ill Phil's swim I saw a huge branch holding a net on the platform with a nice shadow in it. Clearly a better one at 32lbs 14oz.
Pics gave us some old school vibes and it was good to be back out there together. As Davy Claus said in our latest magazine: long live the socials!
---