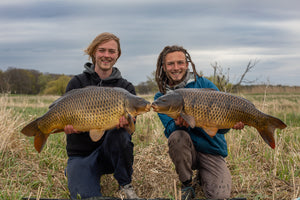 In Search of Lost Time, the BEST angling movie in ages!
When two German boys embark on a couple of weeks long adventure in post first lockdown times, with minimal tackle, caring about good, fresh food but not really about comfort, even turning their smartphones off, you get this surprisingly honest new Hammer Tackle video 'In Search of Lost Time'.
It was actually a friend who pointed the movie out to me, saying it's the best he's ever seen & after watching it we can only agree. In Search of Lost Time shows a surprising high degree of freedom, mixed with a maybe naive (not meant negatively) innocence and makes us dream again of the days we ourselves were so young and didn't give a flying f... 
Honestly, you guys need to watch this ourselves and let us know what you think.
Big up Jakob & Moritz, you guys are on a different level!
Gio
---
1 comment