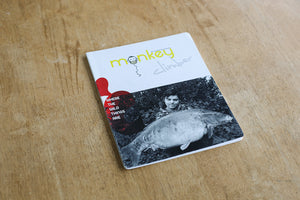 Inside story: There wasn't one, so we created one!
Last Friday I gave a slideshow at Hengelsport Lisarde and it amazed people that Monkey Climber magazine and everything around all started without a plan, and certainly no business plan. It all grew organically and twelve years later it still does.
The dummy MC#00 you see on this pic was a suprise gift by my missus Eve back then in 2010. Coming from a skate/surf/hardcore/punk background herself we had already discussed the idea of doing a carpy zine together and definitely not have a name with 'carp' in it. Monkey Climber sprung to my mind as it was the very first item that reminded me from my early carp takes. So without me knowing Eve started working on this one, she didn't know what a Monkey Climber was so the very early logo versions were more like balloons than an actual OG Monkey Climber, it had me with a French river forty on the cover but actually not the best pic ever, great carp though...
This is where the journey started and today it still continues, thanks to you and your support. Big ups! X

Check our mags here.
---