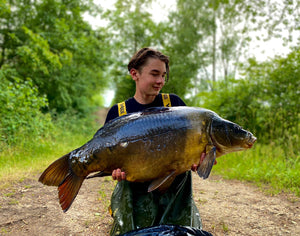 Introducing the F Store & an update from Flanx and Bait42
Hi mate, a couple of months ago we published the 5 question with Maurice Flanx which was quite popular on our blog. How's Flanx doing today and how does the brand stand in these strange Covid times?
Hi Mate! Yes, it's all kinda strange... Like most of us in the angling industry, we had a very good 1,5 years! We were somehow the winners of Covid! But I very highly advice the industry to be cautious, because we will also suffer... just later! You start seeing it now, the whole supply chains are interrupted... We have now lead times of 6, 8 or 12 months, which is insane! Same with transports! I look it up daily and today (Sunday the 8th) a 40ft container from Shanghai to Hamburg
costs 
17.350 USD.... Normal it's around 2.000! So yes, it is a tricky time...
You recently opened the F store. Tell us something more about it. 
Yes... Before my stroke I used to invite everybody who wanted to know anything about my tackle
to my house
! But I just can't /want that anymore... So I looked for a larger warehouse, with space for for a sales unit but found nothing. Then somebody came up with this shop and I said yes! It is now an Outlet Store Deluxe... 🤣 4 meters Nash, 3 meters Gardner, JAG, Hydrospool, Cult Tackle, Castaway PVA, Reuben Heaton... Plus and foremost my own brands Flanx and Bait42.
We're in your shop too, thanks for that! How is that going?
Yes... And I am proud of it! Being now the only one how sells Monkey Climber in Germany is somehow special! I started the store now five weeks ago with limited opening hours only, and people are asking me constantly for it... I am now also trying to find a way to have at least a few of your things online too! So, yes it is fine!
You named it: Bait42 is another brand of yours. Again, tell us all about it. When did it start, how does it go & grow, etc.
Puuhhhh... Where should I start? I had a bait company in my late twenties, called Phoenix, which reached also a bit fame over the borders of Belgium and Holland! As a flavour collector yourself, you may remember my blue bottles.... 😀
I sold that company for several reason nearly five years later but I had my hands always a bit in bait, when you know what I mean. In 2017 I decided to be self employed again with Flanx and wanted to offer a small bait range too! As I did not have facilities, nor the time, etc. plus I wanted for sure a cooking and not steaming company... So I went to Dreambaits and have never looked back! The commitment, the love of what they do, the accuracy etc. is second to none! They follow my recipes 100% and all that for my small brand, I simply love Mario, Bob and Kevin! Again, due to my stroke I hardly took care about Bait42 for over a year but now we are back on track and steadily growing! It is just a matter of what you have in your baits and I have a lot inside 😎 Creating baits simply is an over 30 year old love...
What does Flanx hold in the pipeline for later this year / early next year?
As I said, the supply chains are interrupted and as a quite small company it is a difficult time! For example, I have 5 different WPM mats (my waterproof mats) ready and paid in China but these are bulky items. And with the container costs, I better leave them in China for the time being... There are a few more rods coming, Inceptor rods but with a twist and high grade Cork. What's more, I just finalised my Specimen rod range too. Both hopefully for Spring 2022 if Covid, transport and all that allows it....
Thanx for having me... 😊 - Maurice
Speak soon buddy!
---