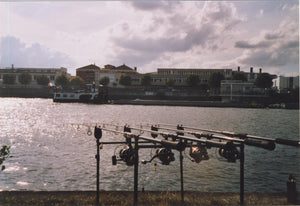 Join the Provins Carp Open and help restocking the mighty river Seine
Last year we became a member of the French Authentik' Carpe Passion club, a group with some very noble causes like defending our rights as carp anglers, defending the carp itself whenever there's a problem (water closing, poor water quality, etc.) and trying to open up more venues to do our thing.
Tonight we spoke to the vice president Erwin Meyers and learnt about this brandnew international event they are having this year, the Provins Carp Open which will be held on 37 kilometers of River Seine banks from June 18th until June 25th, 2022. The Provins Carp Open is being held as an European Carp Championship for 80 international teams and already being backed up by a number of big brands like Nash Tackle, Raptor, Carp-R-Us, etc. giving the organisation very favorable discounts on the prizes competitors in this event can win.
The very cool thing about the Provins Carp Open is that, apart from expenses being paid back, Authentik' doesn't want to win any money on this event. "The Covid situation is still a bit unfortunate all over Europe, but if we manage to complete the 80 teams for the Provins Carp Open, we are looking at an estimated 'profit' of 30-40k which will be FULLY invested into officially buying carp to stock the might river," Erwin proudly explains. All this is being done in cooperation with the local AAPMA and could bring massive results if you just imagine the number of carp that could be stocked if this event is successful, year after year.
At Monkey Climber we plan to do something as well to help Authentik' out and we're mainly thinking about doing some unique collab items (think of a special hoodie or pop ups) to help the French boys out with this project.
---