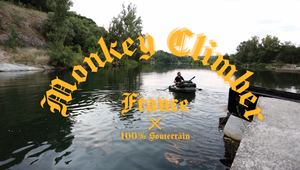 March 25-26: Monkey Climber stand over at Nash Days France
Hi everyone, Saturday March 25th and Sunday the 26th Carpasens in Marolles-sur-Seine is hosting the highly anticipated Nash Days France. Two action packed days where you can meet the French and international team, learn new techniques, see new products, chat with (inter)national guests and a couple befriended brands including us.
That's right, we'll be having a stand with a good selection of our products including magazines, beanies, 5 panels, snapbacks, hoodies, shirts, jackets, etc. Of course we cannot bring the full range but if you're looking for anything in particular message us asap on info@monkeyclimber.be 
The event is free but you need to register as space is limited to 1500 persons. See you there!
Bonjour à tous, les samedi 25 et dimanche 26 mars, Carpasens à Marolles-sur-Seine accueille les très attendus Nash Days France. Deux jours pleins d'action où vous pourrez rencontrer l'équipe française et internationale, apprendre de nouvelles techniques, voir de nouveaux produits, discuter avec des invités (inter)nationaux et quelques marques amies, dont nous.

En effet, nous aurons un stand avec une bonne sélection de nos produits : magazines, beanies, 5 panels, snapbacks, hoodies, chemises, vestes, etc. Bien sûr, nous ne pouvons pas apporter toute la gamme, mais si vous cherchez quelque chose en particulier, envoyez-nous un message dès que possible à l'adresse info@monkeyclimber.be.

L'événement est gratuit mais vous devez vous inscrire car le nombre de places est limité à 1500 personnes. Au plaisir de vous y voir !
---