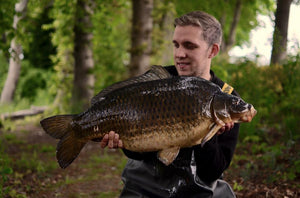 MC Syndicate x Lucy's Bowl Fundraiser now live
Monkey Climber is an alternative, indie magazine with a big heart trying to give something back to the angling community and outside world. We get asked a lot for charity and fundraisers and always try to help out whenever we can. 
So when a couple of good friends of ours like Dean Lloyd, Keith Sykes, Les Bowers, Tom Coloff, etc asked us as Trustees of Lucy's Bowl (a non profit for Guided Dogs) what we could do we thought it a cool idea to give away 48hrs on our own 4-5 acre syndicate over here in Belgium.
Here's some of the 35 carp in the exclusive syndicate to wet your appetite:
Anyone interested in bidding:
---