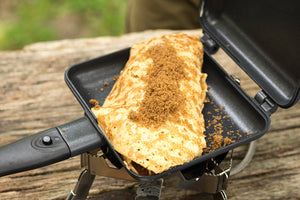 MC x Ridgemonkey recipes: Crunchy chocolate banana pancake roll
Components (for 2 persons)
8 ready madepancakes
butter
2 ripe bananes
handful of cereals of your choice
easy melt chocolate bar of your choice
brown sugar
Start by placing 4 pancakes open next to each other. Cut two ripe bananas into thin slices and arrange them in the middle of the pancakes. Then sprinkle with musli/cereals of your choice. Place an easy melting chocolate bar (we used Kinder here) in between. Cover with a second pancake. Make a nice roulade of this. 
Now take the appropriate double RidgeMonkey pan. Grease both sides lightly, on the inside of course (this is for our proof reader Phil :-)Now place the roulades per two in the pan, sprinkle with brown sugar, bake on low heat and enjoy! Contains enough calories and proteins to start the fish day. Can easily be combined with a classic English breakfast of egg, bacon, sausage and beans. The pictures also show delicious warm tomatoes with a topping of Parmesan and mustard.
Big thanks to my fishing friend and professional chef Jeroen Verhoye for this recipe, more will follow soon! Also special thanks to Leander Poté for his photography here.
You can find a great range of Ridgemonkey products over at Dangler.
---