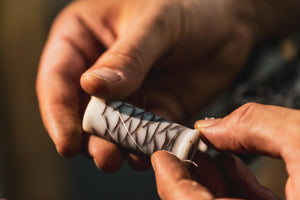 MC x Signalwood Scaly Baby bobbins update
Update early November: We get a lot of messages the past couple of days regarding the MC x Signalwood preorders. We got hold of the SingnalWood guys, on Friday night we had a whatsapp video together. They boys are totally thurstworthy but totally underestimated the workload that goes into such a batch of handmade bobbins. First part - only 100ish - should be here very soon and if not first weekend of December we are driving 14 hours to Austria for a show where we normally stand next to eachother. We keep on pushing to get everything sorted as soon as possible and we'll find a way to compensate for the long wait. We asked SignalWood to come with a statement as well. Sorry for any inconvenience, Gio.
Original post from first half of October: This week we had contact with the guys over at SignalWood and because of all the handmade work they are now dreaming of bobbins at night. 
We started our preorders at the end of August and thought to have the bobbins nowish, but the reality is that the handcraft takes longer than expected. As soon as SignalWood has the first batch ready, we will start shipping and we hope, with the promise of SignalWood to have everything out by the end of the month.
Couple of points worth noting:
for those who bought more than just the bobbins, we will ship out everything together
price for the bobbins on the website is per piece, we notice some people only bought one piece which is no problem to us of course
Any questions, message us on info@monkeyclimber.be
---