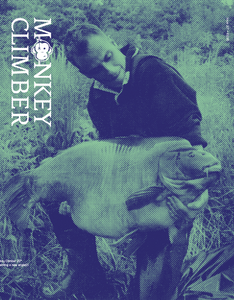 Milestone issue MC#20 out now!
Our newest MC#20 started dropping with subscribers this weekend, so here's a little preview already of a rather special milestone issue. Twenty issues strong also means a decade of MC...
The cover this time is a tribute to local angler Vistje who passed away on Boxing Day last year, holding a massive 30.6 kilos local nature reserve fish known as Knobbel back in 2006. His story never been documented, we were allowed to visit him in the last months of his life. Cover is made proper hardcore punk zine style, with a xerox effect (check zine culture on socials or Google it!) and again inspired by hardcore punk vinyl releases we did three cover colours this one time.
In issue 20 we launch a new MC anthem which we named Chilling In The Name of and the artist Adam Entwistle is made a special piece about it, along with our brother Surrounded By Giants. 
Furthermore a massive, massive scoop in this issue with the capture of du Ders Big Girl at a whopping 46 kilos two years after we helped getting the stolen fish back into Chanty. The captor kept silent all the time.
French Thibaut Cotelle travels through Europe, two Dutch guys do some kayak carping in France, we make a pitstop in Germany to give you more proof about early German hair rig, boilie and particle inventions and last but not least there's the second part of Johnny Haars' swan song on a tricky Belgian pit.
Dutch/Flemish written. 100 pages. Single issue 9,95 euros, subscription 24,99 euros + shipping Benelux – 29,99 EU/UK
---