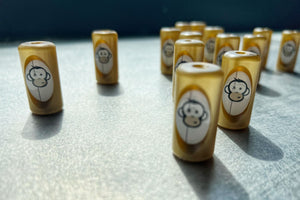 New bobbin colour dropped, join the gold rush!
Fantastic new collab with Matrix Innovations Ltd! Due to Brexit and import taxes etc. it is now 35 euros per complete hanger in stainless steel (bracket, hockey stick, ball clip), 18,50 euro body only. Don't miss out & order now!
Limited white ones gone forever as these were made for Zwolle 2020 only, we're sorry! Unlimited black ones will always be available but currently aren't! 2022 gold edition is limited as well.
Isotope info: these take the large 23mm x 3mm ones, get them Matrix directly.
---