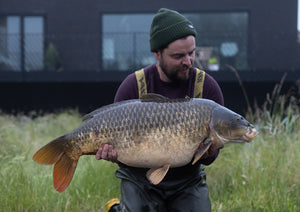 Our backyard is better than yours
As many of you will know, the Monkey Climber HQ is situated just next to a canal. Not a typical Belgian big fish canal though, a ten kilo plus fish is a good one here. 
After our basement flooded partially on Monday due to a severe cloudburst, our editor Gio put a Scope rod out that night and some good karma resulted in his biggest ever from the backyard. A fish he had caught twice before on the nearby Ostend canal and known as the biggest of the local stretch.
Now it must have passed a couple of sluices as they often do and it came out just in front of Gio's home! 
Pics by Kevin Sinnaeve.
``
Previous captures in 2011 and 2018:
---