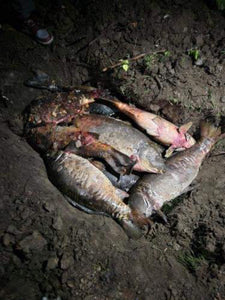 Oxygen crash wiping out famous Belgian Niel stock
Last Saturday we got contacted by one of our followers regarding carp and other species in need and clear signs of an instant oxygen crash on the famous public Niel complex over here in Belgium (also nicknamed Belgian Yateley).
From personal experience in my former job role I knew the first hours are crucial so we urged the locals to act fast: contact the fire department, ANB, whilst we contacted VBK, people with pumps (many thanks to a local angler here and Gills & Scales at the other end of the country for their offers), etc. but for some reason all of this wouldn't work out like everyone wanted to that morning. 
The result is more than sad, one of the oldest Belgian stocks has been wiped out with known gems like Arrow Tail, Naked Spot, etc. lost forever. 
Personally it's the xth case I see over the past decade and never there is a coordinated approach from above, so we suggested VBK now to contact authorities and set up some kind FAST plan and also invest in a mobile urgency unit in case of fish kills. We know Embryo Benelux/Europe also has this plan to help out, let's all put our heads together and avoid massacres like this for once and ever.
Special thanks to everyone who tried to help out and our sincere condolences to the local anglers, we feel your pain.
---