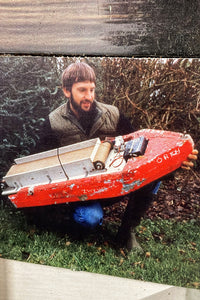 Phil Cottenier going viral, some proper Belgian baitboat history in one picture
This morning we were working in our HQ when our eyes fell to one epic Phil Cottenier pic on the wall, as they had done so many times in the past. It shows the Belgian legend with Orky, a homemade conveyer belt baitboat from 1990.
We post it up on our socials and it just went viral, never expected this. More history about this boat can be read in the comments (you'll need to use the translate button here and there), we also learnt there were other anglers using one over here in the mid 80s and pike anglers already in the 70s.
The post put us in touch with Phil's friend Geert again and we'll soon try to meet up for some more OG stories and maybe some filming even!
---