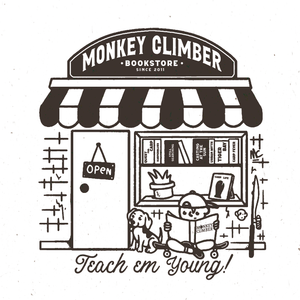 Preorder our newest Youthcrew design now
Just like last year the boys from Carp College wanted to do a collab shirt with us for their Summer camps. Our editor had this mega idea in his head, took it to a professional Dutch illustrator and the outcome is proper sick. So here we go: the Monkey Climber Bookstore, showcasing our fav titles & this cool kid sitting in front reading the latest mag with his dog, rod and skateboard. 
We can imagine a lot of you will want this design as a shirt or hoodie as well, so we set up this preorder here. Running until July 15th.
All shirts and hoodies will be printed on fairwear, medium fit fabric. Shirts coming in Sand and Yellow (or custom colour, if possible), hoodies in Desert Dust (sandish).
---