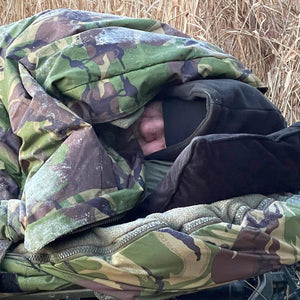 Product in focus: Flanx True 5 season sleeping bag
Just before Winter came we got ourselves a Flanx True 5 season sleeping bag in house because a lot of our German friends and followers said it's simply the best thing out there.
Wanted to test and review this one properly, but Winter never really came over here in Belgium yet & during the whole of January I didn't find the time to go out on the bank because of magazine and webshop work. So the personal review will be for later, with a little chance I'm off to France for a couple of days next week...
Anyway, some first impressions and specs about this sleeping bag! After receiving the heavy parcel - it's literally the biggest sleeping bag I've seen in recent years - this beauty MUST be a true five season one as Flanx advertises. Multiple layers, perfect finish, spacious enough, literally can't wait to test it against the conditions.
Details of the Flanx True 5 Season Sleeping Bag in DPM


The upper insulation layer is lined with nylon from the chest down, while the rest is lined with fleece. This makes it easier to turn.
The insulation layers are made of 7 Core Hollow Fibre filling, so the fibres expand better and the sleeping bag keeps its shape.
Offset stitching in layers keeps warm air inside better.
10 mm crash zips.
Soft DPM polyester outer material on both sides of the sleeping bag to improve breathability.
Elastic strap to secure to the bedchair.
Lined with microfleece.
Elastic covers at head and foot end to fix on bedchair, also suitable for bedchairs with single support feet:
We have not made it as wide as some others for better insulation and to prevent heat loss.
Dimensions: length 220 x width 95 cm
Pack size: approx. 40 x 60cm
Weight: 5,2kg
Main outer material: 100 % polyester, filling: 100 % polyester, lining: 100 % polyester
The ultimate sleeping bag for carp fishing in cold to very cold weather conditions.
---