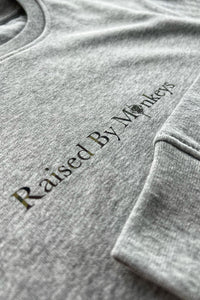 Raised By Monkeys
For our good friend Alan Blair we recently made this sample crewneck with a camou print & posted it on our socials.
Interest was so huge that our inbox was flooded with I WANT ONE messages. 
We plan to release these after our July family holidays but you can already reserve yours by emailing us on info@monkeyclimber.be, use topic 'Raised By Monkeys' as your email title and write down your size and whether you want a shirt, crewneck or hoodie. As soon as we're back we will contact you.
X
---