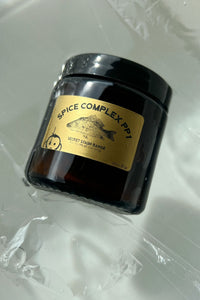 Secret Stash Hookbait Powders released tonight!
Thanks to the popularity of our hookbaits a lot of you guys keep asking us for the powders we use, either to cure your hookbaits further or to make more pop ups yourself or to have matching corkballs, wafters, etc.
Here's a selection of 6 gold label amber glass tubs with the best of the best we can get for you. Our social media accounts went mad when we dropped a preview a couple of months ago.
Pure Cure Powder:

 

By far our most popular sweetener type powder we use to cure our pop ups. Think of the power of Talin, but then in a powder version.
PM Sweet: Rare old school stuff, highly concentrated. Use very low dosage only. We use this in a couple of our pop up cures with great success. Also very sought after by match and competition anglers.
True Blue Powder: The stinky stuff. The good stuff. For Italian cheese lovers. Very concentrated.
Savoury Noddy: The exact same curing powder we use for our popular Noddy pop ups. A winner!
Spice Complex PP1: Made for us by an old school Belgian bait guru. Sick stuff!
Banana Crop: The name says it all :-)
---