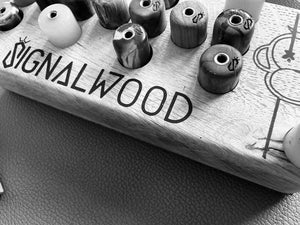 Something is cooking! MC x Signalwood / MrBobbin
Thanks to Marc and Chantal from M2 Bait and Tackle we got into contact with the nice Austrian fellas of Signalwood (Mr Bobbin) a good few months ago. The young Austrian brand is a spin off enterprise by award winning product-designer Dominici Daschkiewicz and their story truly inpsired us. Everything's handcrafted, everything's recycled/upcycled using recovered materials only.
"Why cut down the rain forest for a piece of wood to be used as a bobbin. Quite contradictory for us, anglers, isn't it?" This line struck me most during one of our hour long Zoom calls and we planned a future interview for the mag plus a proper collab.
Samples are now on their way and we hope to drop something really cool and very limited together sooooooon.
Keep your eyes and ears peeled, boys & girls.
---