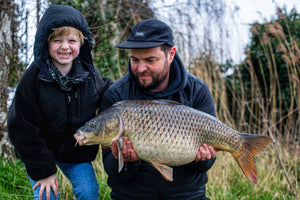 Taking some time off, see you soon!
(Update: We're back - deal now over)
The Summer months have been nothing but crazy for us, thanks to your support. Normally July and August (when people have holidays) are the calmest on the MC webstore but this year they've turned into the busiest... just unbelievable. It got to the point that we didn't take time off as a family this Summer yet and my 6 year old complaining last week that his school hols are nearly over and his daddy always working in the MC basement packing orders. That hit hard tbh.
Anyway, with the Open Fishery Day from last Saturday done and dusted, we are now, as we speak, and tomorrow packing the final orders on the shop and then it's time for some well needed rest. We don't have plans yet but possibly going to do some stuff close to home. 
We planned to close the shop completely during our time off but that's not easy or even virtually impossible in Shopify. Unless we would put the site under maintenance and that's not cool at all. So we keep the shop open but won't ship out until our family holiday time is over towards the end of the month. Hope you understand.
All orders made during this time will receive a bunch of extra stickers, orders over 75 euros (shipping excluded) will receive a free magazine, sample cap or shirt of our choice on top!
PS When we return the following will be added to the site: Signalwood bobbins, Kids In Mind charity pins, Sunset shirts, new pop ups and hookbait liquids, Forgotten Flavours flavours, and a whole bunch of new stuff.
---