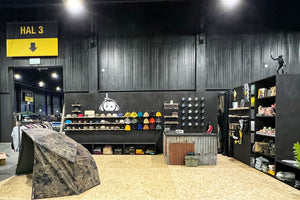 Thanks for Carp Den Bosch 2023 & main FAQ's regarding our eyecatching Flecktarn Brolly
Thanks for a fantastic
CARP DEN BOSCH
people! Your support, love, inspiration means the world to us. Special thanks goes to our friends helping on the stand, legends!
The eyecatcher on our stand definitely was my personal sample
Forge Tackle
x
Monkey Climber
Flecktarn brolly, which wasn't for sale at the show though. For a long time a wanted an old school type of oval brolly but in German flecktarn as I love this camou pattern so much and Enrico from Forge helped us massively
with this one really. During and now after the show we got so many requests regarding the brolly so here's some more info answering your main questions.
Release date? Probably end of Feb 2023, in a good few weeks only.
Where from?
www.monkeyclimbermagazine.com
we'll put a post and release date up as soon as we know more. Limited numbers only, in this first batch coming to us there's 110 pieces and we don't aim to flood the market, rather keep things limited. That being said, from this weekend's response we now realise that 110 is just not enough to please our followers and friends.
Is it just a brolly, does it have a front? It's a brolly made for the undercover and moving angler mainly, an oldschool concept in a modern design (tackle organiser inside, rear vents, etc.) coming with a fleckarn mozzy mesh and groundsheet (both not shown at the show, but can be seen in the pic where I'm using the brolly on the bank over in the French Alps last Spring).
Can we preorder? The answer simply is no, we're sorry.
What is it going to cost? Rough estimate for the complete set brolly + mozzy + groundsheet around 400 euros.
Gio
---
1 comment