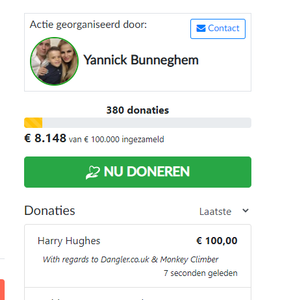 Thanks to Dangler for supporting Ian's charity!
The people over at Dangler in the UK wanted to have a link added to our RidgeMonkey recipes on the website and asked us what that would cost. We usually don't do this, but asked them to donate an amount of their choice to a charity for the son of our follower and friend Bunneghem Yannick Ian, who needs a very costly ear surgery in the US. Dangler donated 100 euros for this mega cause, thank you!
If you are willing to help too, here's the URL to the charity. Yannick himself sold all his fishing tackle to help pay his son's surgery. Think we believe with some help of our friends in the industry and followers, we should be able to give Yannick at least a basic set again so he can still continue fishing.
Anyone who wants and can help out financially: https://steunactie.be/actie/geef-ian-de-kans-op-een-normaal-leven/-10241?fbclid=IwAR1F6p7bKXLcB6x-codJt4C8CECXjsK7otJW1nc01JiEryoe9NmbP_W8zNI
---