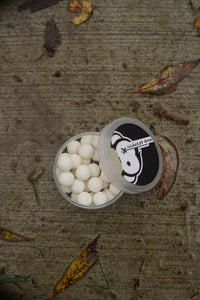 Three new hookbaits from Monkey Climber, limited numbers only
Here's three new special Monkey Climber hookbaits added to our new shop. First off are the new Iceberg pop ups: "Holding a special combo of spice flavours of which ginger may be very recognisable, fruits and sugars. Sometimes it even makes you think of a fresh bottle of Coke so we might have found that secret formula lol! Available in 15mm only, two colour versions (white and washed out pink) and als two possible cured versions (cured sweet and cured spice). Now that's a bite!"
Next we have the Tarantula wafters: "First time ever we do a wafter. Based around Nutrabaits Ener-Vite Gold mix, wafting perfectly with the use of the perfect amount of very fine corkdust. Attractor package includes Spice Cajouser, an oldschool Liquorice flavour, the best liquid NHDC on the market and one, more secret, powder additive. Available in Black only, dumbell shaped 14 x 16mm. Cured version possible too."
And then there's our Squid Game hard hookbaits: "First time ever we do a hard hookbait & it's a very powerful one! Based around Nutrabaits infamous Big Fish Mix, added Krill and rounded off with original Solar Squid & Octopus Koi Rearer! Mega stinkers that can be used on their own or as toppers. Available in Red only, dumbell version 14 x 16mm. Cured version possible too.
Get them while you can from:
---