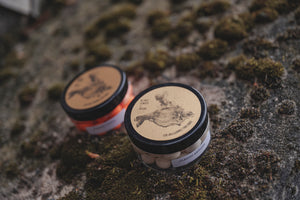 Two ltd. ed. Chris Ball pop ups for FODCAC charity now live!
The last few years we have been supporting the Fodcac charity in one way or another and this year is no different. We've teamed up with the legend Chris Ball is, who also helps the organisation out this year, and came up with two of his classic pop up combo's: Tutti in Deep Orange and Anchovy in White, both in 15mm version. 
Classic gold label with Chris and the iconic Olive from Wraysbury printed on it. Limited edition only. All profits after cost for us will go the Fodcac charity.
Here's what Chris himself had to say about his two favourite pop ups:
Classic Tutti
"If I was limited to use just one pop-up for my carp fishing it would have to be a Tutti flavoured one. Historically, this flavour has the ability to catch carp from the smallest farm pond to the largest freshwater ocean possible. Coupled with the orange colour it has a great attraction to carp anywhere in the world.

I always achieved the best results with any pop-up fished just a 1-inch to 2-inches off bottom with the bait fished on the hair reasonably tight to the back of the hook."
Classic Anchovy
"When fishmeal's took the carp fishing world by storm, I soon found I did well with a white coloured Anchovy flavoured pop-up over a bed of fishmeal boilies.

Around 25-years ago I fished a lovely 15-acre lake in France. I was one of five anglers on the trip and such was the success of the white Anchovy pop-ups I fished at range over a scattering of boilies, that I ended up landing more carp than the other four anglers put together. Needless to say white anchovy pop-ups remain a firm favourite ever since."
---