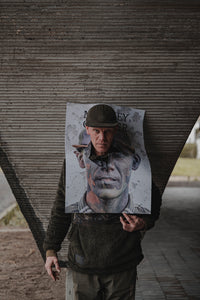 Dozen of new cool items added to the store today, check it out!
We have a few, not too many, new items added to the store today. Here's an overview for you keen Monkeys:
PRINT
For the Hengelsport De Poorter open day with Alan Blair we recently had our iconic MC#12 cover made as a big ass poster. Leftovers from that day are for sale here, don't miss out!
CHRIS BALL CHARITY POP UPS FOR FODCAC
The last few years we have been supporting the Fodcac charity in one way or another and this year is no different. We've teamed up with the legend Chris Ball is, who also helps the organisation out this year, and came up with two of his classic pop up combo's: Tutti in Deep Orange and Anchovy in White, both in 15mm version. 
Classic gold label with Chris and Olive from Wraysbury. Limited edition only. All profits after cost for us will go the Fodcac charity. Get them here.
NEW OLIVE OIL COLOUR, SEASONAL ONLY
Our fairwear supplier let us know they have a new seasonal colour which is Olive Oil and perfect for us carp anglers. We now do our popular Frontcover design with these too and you can choose from shirt, crewneck or hoodie here. 
NEW CAMEL COLOUR, LTD. NUMBERS ONLY
Another new one in the Front Cover range is this carpy Camel colour. We've got limited numbers only.
OLIVE FLAME
This sweet Keepers of the Faith Flame baseball cap now coming in Olive too. Classic design from us, inspired by our hardcore/punkrock background. High quality dad cap / 6 panel type Yupoong quality - yes, we've been listening to what y'all asked for! - made of very thick material. Limited amount available only, be quick!
TWO NEW JOGGER COLOURS
With the popularity of Burgundy items in our range it was only logical to offer Burgundy joggers too. We also added a more exclusive Tie Dyed version too, which comes on a made to order basis. See the full Jogger range here.
TWO NEW CAMUS MUG COLOURS
We added Grey and Dark Navy Blue as new colours to our popular Camus mug range.
BELGIAN JIGSAW CAMOU POCKET CREWS
Our in house made pocket tees and shirts have always been popular and now we've added these sweet pocket crews with a Belgian Army Jigsaw Camou pattern, available in Camel, Olive or custom colours. 
TWO NEW TIE DYES
A lot of our friends including Alan Blair, Lolo, Hanno, etc. are crazy about Tie Dyed stuff. Through one of our suppliers we got these limited oversized Tie Dyed hoodies now in.
CUSTOM MC x STUART CHOWLES RODS
Anyone who ordered from us in March already and anyone who orders anything before the end of April gets added to this amazing comp to win this set of custom rods. More info here.
---