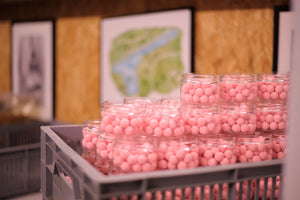 Pink Ladies collab pop ups for Breast Cancer Research
Dobbins Bobbins x Forgotten Flavours x Monkey Climber. A threeway collab!? Hell yeah! Originally we planned only 10 charity tubs of these Pink Ladies, a fingerlicking sweet combo, but after Bucko of Dobbins fame posted a teaser pic his and our social media went mad.
So we decided to do 25 of these on each of our three brands websites, 75 in total. Damage will be 25 quid/euros and full profit will go to breast cancer awareness and research. We actually love boobies, but that is probably not okay to say on the internet these days lol. But on a more serious note, the older we all get, the more we get confronted with breast cancer in our families and with our friends, so let's embrace this good cause & raise some money by a carp scene that cares for the outside world.
Of course you need to know what you're buying! Dieter of Forgotten Flavours came up with these Pink Ladies in 15 mil, slightly off pink coloured. Attractor package includes lots of OG stuff as you would expect from FF only:
Nutrabaits Violet
Nutrabaits LPX
Cotswolds LMPSE
Geranium Essential Oil
Dropping this Friday Nov 5th at 7PM Euro time - 6PM UK time.
---