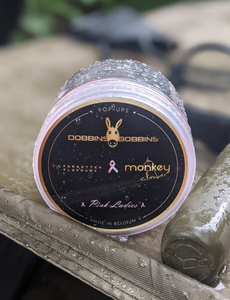 Pink Ladies pop ups, ltd. to 75 pcs charity collab with Dobbins Bobbins & Forgotten Flavours
Dobbins Bobbins x Forgotten Flavours x Monkey Climber. A threeway collab!? Hell yeah! Originally we planned only 10 charity tubs of these Pink Ladies, a fingerlicking sweet combo, but after Bucko of Dobbins fame posted the pic above our social media went mad.
So we decided to do 25 of these on each of three brands websites, 75 in total. Damage will be 25 quid/euros and profit will go to breast cancer awareness and research.
Dropping soon!
OVERVIEW OF MONEY WE HELPED RAISING FOR DIFFERENT CAUSES
There's quite a few over the past decade which we never really recorded, so from now on we would like to do so on here with every charity blog post we do:
Unknow amount (coming soon) for Breast Cancer Research (2021)
Unknown amount (coming soon) for Phyillis Tuckwell hospice (2021)
4.000 GBP for Mikey's Wish (2021)
1.800 GBP for Lucy's Bowl (2021)
---